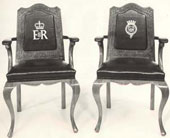 John Richards Furniture began trading at 72-74 The Parade Norwood in 1956. Assisted by his wife Jean and just a few staff, John went on to establish one of the most successful furniture stores in South Australia. Regular buying trips to Britain and Europe brought quality furniture to homes of many South Australians.
Pictured right are chairs designed by F. Millward Grey and carved by John E. Richards for Queen Elizabeth & Duke of Edinburgh to use in Adelaide during Royal Tour Australia in 1954. They are made of Queensland mahogany.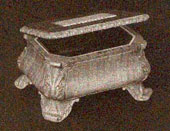 Pictured left is a box carved by John Richards, which was a gift from South Australia to the Duke of Edinburgh during the Royal Tour Australia 1954.
Over the years people have put their confidence in the name 'John Richards', a process which continues today under the guidance of his son Matthew. Matthew and John have, between them, notched up 68 years in making, carving, restoring and polishing furniture.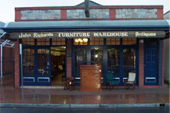 And now the family business has been consolidated into one fully stocked showroom at 63 The Parade Norwood, South Australia, where the same long-standing friendly service, craftsmanship and attention-to-detail are still the hallmarks of the Richards family furniture tradition. When you visit the store not only will you find exquisite and practical pieces, you will also see master craftspeople at work.
The City of Norwood, Payneham and St Peters Council hosted a celebration recognising the John Richards Furniture Cultural Walk Plaque on 18th May 2008 for over 50 years of successful business on The Parade, Norwood.
See a photo of the plaque in the miscellanous section.
Reduced hours in December leading up to Auction of all items online with Roger Kearns until 10th December 2017. Viewing on site available prior to and on the day of the auction.
Christmas Closure from Christmas Day when relocation occurs in 2018.
Monday - Friday by appointment P 0432732403 8am - 4.30pm
Saturday P 0432732403 for appointment 9.30am - 3.30pm
Facebook Page Link
https://www.facebook.com/pages/John-Richards-Furniture/265856676786672
---